Alleged spy couple planned to sail 'home' to Cuba
Kendall and Gwendolyn Myers, arrested two weeks ago, made a court appearance Wednesday.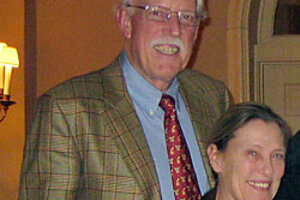 A. Rea/ Handout/ Reuters
Kendall Myers and his wife, Gwendolyn, looked oddly out of place in their blue prison jumpsuits standing before a federal judge here on Wednesday.
White-haired and wearing glasses, they might blend more easily with fellow senior citizens in retirement.
Instead, both are facing trial on charges that they spied for Cuba for 30-years.
In a case rife with unanswered questions about motives, payments, and the extent of damage done to US national security, one issue is crystal clear. This is not how the couple envisioned spending their golden years.
The plan, according to US counter-intelligence agents, was to sail their 37-foot yacht "home" to a heroes' welcome in Cuba. US agents discovered charts of Cuban waters and a notation in Mr. Myers' personal calendar that he planned to sail to the Caribbean this fall. There is no return date.
Instead, the couple, both in their early 70s, are now confronting the prospect of a long, complex trial on espionage conspiracy charges. If convicted, the sentencing guidelines suggest 14 to 17 years in prison.
Mr. and Mrs. Myers were arrested two weeks ago after meeting at the Capital Hilton with an undercover FBI operative posing as a Cuban intelligence officer.
The FBI undercover operation and surveillance of the couple apparently began more than a year ago, according to court documents. The unnamed undercover operative gained the couple's trust and prompted them to reveal much of their past service for Cuba's Directorate of Intelligence, according to an FBI affidavit. The undercover sessions were recorded and will likely form the backbone of the government's case at trial.
---