A bold gambit to reduce demand for child porn
Federal prosecutors and a New York lawyer are persuading courts to order anyone caught with illicit images to pay financial restitution to child victims.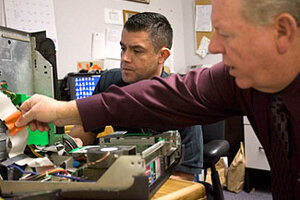 ZumaPress/newscom/FILE
Federal prosecutors are embracing an aggressive approach to fight the spread of child pornography on the Internet, urging judges across the country to order full restitution to identified child victims in cases where the defendant possessed the images but played no role in their creation.
Last month, a federal judge in Pensacola ordered a Florida man to pay $3.2 million to one of the children depicted in photos he downloaded to his computer. The judge ordered the payments – for lost income and treatment sessions – though the man had never met or had any contact with the girl.
"Each and every individual who possesses and downloads these images victimizes these children," Senior US District Judge Lacey Collier said.
Generally, restitution is awarded in cases where a defendant's direct actions caused the injuries suffered by the victim. In a child pornography case, the person most responsible for injuring the child is the pedophile who abused the child, recorded images of the abuse, and then traded or sold those images to others.
But child-victim advocates say that is not the only harm. Those who download child pornography help set the stage for future abuse by fostering an active market for such images.
At the urging of child advocates, federal prosecutors are working to convince judges in child pornography possession cases to order full restitution to any child who can be identified among seized images. The approach radically expands personal liability for child pornography beyond those who created and spread the illegal images to anyone who downloads or views the resulting depictions.
---