Review of alleged detainee abuse to have narrow scope
'Preliminary review' looks at whether interrogations followed guidance of the Bush 'torture memos.'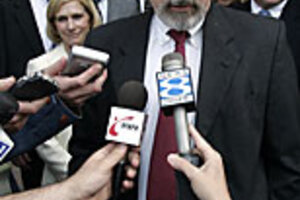 Bob Child/ AP/ File
In a highly contentious move, Attorney General Eric Holder on Monday appointed a special prosecutor to take a fresh look at whether US officials violated the law through harsh treatment of detainees during the Bush administration's war on terror.
Mr. Holder said he was authorizing John Durham, a career Justice Department prosecutor, to conduct a "preliminary review into whether federal laws were violated in connection with the interrogation of specific detainees at overseas locations." He did not identify those detainees by name or where they were allegedly mistreated.
"I fully realize my decision to commence this preliminary review will be controversial," Holder said. "In this case, given all the information currently available, it is clear to me that this review is the only responsible course of action for me to take."
The announcement came shortly after the administration released a redacted version of a 2004 CIA Inspector General's report on harsh interrogation tactics.
The report said CIA interrogators threatened to kill the children of alleged 9/11 mastermind Khaled Shaikh Mohammed, and threatened another detainee with a power drill and suggestions that if he didn't talk his mother would be brought into the room and raped in front of him.
The report was sent to the Justice Department for possible prosecution during the Bush administration. Prosecutors declined. The issue was resurrected by Holder after he read the CIA report.
Justice vs. witch hunt
---