First member of polygamous sect in Texas to face trial
Raymond Jessop's trial is the first criminal case to proceed after the FLDS was accused of child abuse at a Texas ranch last year. Jury selection began Monday.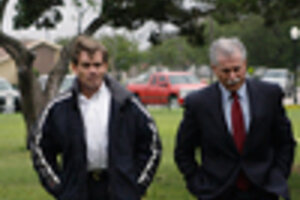 Harry Cabluck/AP
Jury selection began in Texas Monday in the first criminal case to go to trial after a polygamous sect was accused of child abuse last year.
In April 2008, as the child-abuse accusations came to light, some 450 children were removed from a ranch operated by the Fundamentalist Church of Jesus Christ of Latter Day Saints (FLDS). It became the largest child-custody case in US history, and it was largely resolved when the Supreme Court of Texas ruled the following month that the children should be reunited with their parents.
But criminal investigations of some members of the group – which seeks to live in a closed society – continued. Now, Raymond Jessop is set to stand trial, charged with sexual assault of a child – an underage girl he allegedly married first. If convicted, he could serve 20 years in prison. Eleven other men have been charged with crimes ranging from failure to report child abuse to bigamy.
---