Homecoming rape: When do bystanders become accomplices?
The circumstances of the case – with some witnesses reportedly cheering – means that some bystanders could be charged as accomplices. But that would be difficult for prosecutors to prove.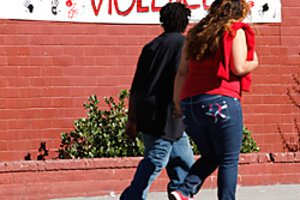 Paul Sakuma/AP
The case of a 15-year-old girl who was raped outside her high school homecoming dance last weekend is likely to raise legal questions about who was merely a witness and who was an accomplice.
Four teenagers were arraigned in Richmond, Calif., Thursday. Three of the suspects are juveniles, and one is a 19-year-old man. All have been charged as adults. A 21-year-old man has also been arrested but not officially charged in the rape.
The assault has shocked Bay Area residents not only because as many as two dozen people apparently witnessed it but because the attack went on for more than two hours without anyone reporting or stopping it.
A former Richmond High School student, who heard about the rape secondhand, eventually alerted Richmond Police, who expect to make more arrests in the case.
Some experts have attributed the witness inaction to the so-called bystander effect, which posits that witnesses are less likely to intervene if other bystanders aren't stepping in to stop the crime.
Drew Carberry of the National Council on Crime Prevention told CNN: "If you are in a crowd and you look and see that everyone is doing nothing, then doing nothing becomes the norm."
---
Follow Stories Like This
Get the Monitor stories you care about delivered to your inbox.