John Allen Muhammad, D.C. sniper, loses Supreme Court appeal
The Supreme Court on Monday refused to block John Allen Muhammad's execution, scheduled for Tuesday in a Virginia prison.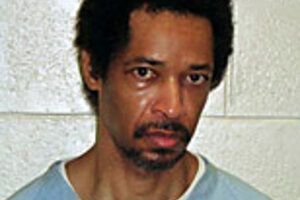 Virginia Department of Corrections/AP/File
Convicted D.C. sniper John Allen Muhammad has lost his last appeal, opening the way for his scheduled execution in a Virginia prison on Tuesday.
Mr. Muhammad and his 17-year-old accomplice, Lee Boyd Malvo, terrorized the Washington region in September and October 2002 as they engaged in a series of apparently random sniper attacks.
In all, 16 individuals were shot. Ten died.
Muhammad was tried and convicted in Prince William County, Va., for capital murder in an act of terrorism and for engaging in at least two murders within three years. The case focused primarily on the Oct. 9, 2002, killing of Dean Meyers. Mr. Meyers was shot in the head while refueling his car at a Sunoco gas station in Manassas, Va.
He was the 12th victim in the shooting spree. Shortly after the attack, police interviewed Muhammad in a parking lot across the street from the Sunoco station, according to court documents. They had no idea he was the shooter. He wouldn't be arrested for another two weeks.
Mr. Malvo was tried separately. He was convicted and is serving a sentence of life in prison without parole.
Muhammad's lawyers filed their appeal with the high court last week. It marked the third time his case was presented to the US Supreme Court, and the third time it was rejected.
---