DC sniper execution: why his case moved so quickly
For John Allen Muhammad, the convicted DC sniper, execution is scheduled for Tuesday night. He was tried in Virginia, which is known for hearing appeals rapidly.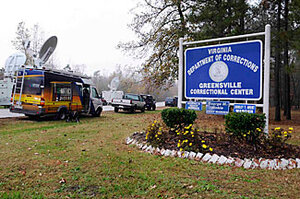 Jonathan Ernst/Reuters
John Allen Muhammad, the convicted D.C. sniper, is scheduled for execution in Virginia Tuesday night, after Gov. Tim Kaine (D) denied a request for clemency Tuesday afternoon.
It has been almost six years since Mr. Muhammad was sentenced to death for the murder of Dean Meyers, one of the 10 people killed during apparently random sniper attacks in the Washington, D.C., area in September and October 2002.
With approximately 68 months between his sentencing and scheduled execution, Muhammad's case has taken roughly half the typical duration for death-penalty cases. Nationally, it takes on average 153 months – almost 13 years – between sentencing and execution for death-row inmates, according to 2007 data from the Bureau of Justice Statistics.
The Supreme Court noted the accelerated pace of Muhammad's execution in its decision Monday not to hear his case or delay his execution.
"By denying Muhammad's stay application, we have allowed Virginia to truncate our deliberative process on a matter – involving a death row inmate – that demands the most careful attention," Justice John Paul Stevens wrote in a statement explaining the court's rejection of the Muhammad appeal. "This result is particularly unfortunate in light of the limited time Muhammad was given to make his case in the District Court."
---
Follow Stories Like This
Get the Monitor stories you care about delivered to your inbox.