Holder: 'Failure not an option' in New York 9/11 terror trial
But Attorney General Eric Holder also told senators Wednesday that accused 9/11 mastermind Khalid Sheikh Mohammed could be detained indefinitely if acquitted in a New York terror trial.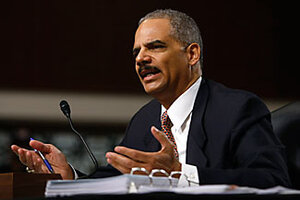 Kevin Lamarque/Reuters
Attorney General Eric Holder told the Senate Judiciary Committee on Wednesday that "failure is not an option" in the prosecution of accused 9/11 mastermind Khalid Sheikh Mohammed in a New York City courtroom.
But he also acknowledged that the Obama administration may shift an acquitted terrorist back into open-ended military detention rather than allow him to walk free.
Mr. Holder made the comments in response to questions about whether he had considered the possibility of an acquittal.
"What I told the prosecutors and what I will tell you is that failure is not an option. These are cases that have to be won," Holder said. "I don't expect that we will have a contrary result."
The comment prompted a sharp response from Sen. Charles Grassley (R) of Iowa. "I don't know how you can make the statement that failure to convict is not an option when we have juries in this country," Senator Grassley said. "I'm a farmer not a lawyer, but I just want to make that observation."
The exchange with Grassley came during nearly four hours of testimony by the attorney general during an oversight hearing.
Delay in closing Guantánamo
---