Supreme Court case: Florida v. beach property owners
Beach property owners in Florida went to court after the state government added sand to the beach in front of their homes, citing erosion, and designated the new stretch public land. The Supreme Court hears arguments Wednesday.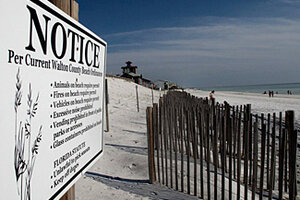 Melissa Nelson/AP
A group of beachfront property owners in Florida are set to argue on Wednesday at the US Supreme Court that Florida's highest court stripped them of their property rights and undercut the value of their land without paying any compensation.
The case marks the Supreme Court's first foray into the area of property rights since the justices handed down their controversial 2005 decision allowing the demolition of a New London, Conn., residential neighborhood to make way for a private development project.
The Florida case involves a dispute over whether Florida's Supreme Court violated the US Constitution when it ruled that the state did not have to pay compensation to beachfront landowners adjacent to a beach restoration project.
At issue in Stop the Beach Renourishment, Inc. v. Florida Department of Environmental Protection, is the scope and enforceability of littoral rights. Littoral rights are the rights enjoyed by the owner of private property fronting a lake, bay, or sea.
Traditionally, littoral rights in Florida included the right to own land up to the edge of the rising tide. This boundary is the place where the high tide meets dry sand. Lawyers and land surveyors call it the mean high water line (MHWL).
---