Both balloon boy parents sentenced to jail time for hoax
Richard Heene will serve 90 days in jail, the maximum proposed under a plea deal reached earlier for his role in the hoax. Mayumi Heene will serve 20 days. 'Balloon boy' parents' sentence also bars them from profiting from the incident.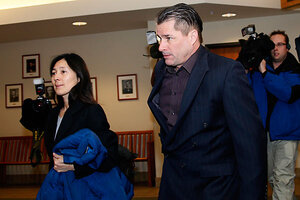 Rick Wilking/Reuters
The parents of the so-called "balloon boy," who caused public outrage in October when they told authorities their son had been swept away in a homemade hot-air balloon, will serve jail time for orchestrating the hoax.
At a sentencing hearing Wednesday in Fort Collins, Colo., Larimer County District Judge Stephen Schapansk ordered Richard Heene to serve 90 days in prison, the maximum proposed under a previous plea agreement. His wife, Mayumi Heene, will serve only 20 days of the 60 proposed under her plea deal. Both parents will be subject to supervised probation for four years, be required to maintain employment, and are prohibited from profiting in any way from the incident.
"This case is all about deception, exploitation … and it's about money," Judge Schapansk said before announcing the sentences.
On Oct. 15, the Heenes alerted authorities and the media, claiming their young son Falcon was inside a home-made balloon they released from their backyard. Five hours later, Falcon emerged from a hiding place in the family's garage and said in a subsequent television incident that his family "did this for a show." The Heenes had previously appeared on a reality television program and are thought to have staged the event to get an additional reality program. Two days after the incident, Mrs. Heene confessed to police that it had indeed been a hoax.
As part of a plea deal reached with prosecutors, Mr. Heene pleaded guilty to attempting to influence a public servant, a felony charge, earlier this month. Mrs. Heene pleaded guilty to a lesser misdemeanor charge of making a false report to authorities.
At Wednesday's sentencing, Mr. Heene addressed the court only briefly. "I'm very, very sorry and I want to apologize to all the rescue workers out there and the people that got involved in the community," he said tearfully. Mrs. Heene declined to make any comments on her own behalf.
---