Las Vegas courthouse shooting highlights rising threat
A gunman opened fire at a Las Vegas federal courthouse Monday, injuring a US marshal and killing a security officer. Threats to federal judges and prosecutors have more than doubled since 2003, according to a recent Justice Department report.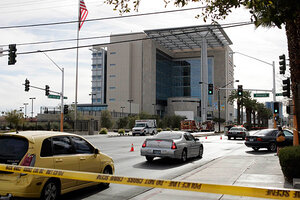 Steve Marcus/Reuters
Monday's fatal shooting at a federal courthouse in Las Vegas comes amid rising threats to US and state judges, and as court systems across the country are struggling to improve security.
Details of the shooting at the Lloyd George US Courthouse and Federal Building in Las Vegas on Monday are still emerging. But reports indicate that a lone gunman started firing around 8 a.m. in the building's lobby, killing a security officer and wounding a US marshal. The gunman was later killed in a shootout in which at least 20 shots were fired, according to the Associated Press (AP).
Federal authorities say they don't yet know the shooter's motive. US Sen. John Ensign (R) of Nevada told reporters at a news conference outside the building that the gunman appeared to acting alone, and that "he didn't get past security," according to the AP.
Threats to federal judges and other court personnel have increased dramatically in the past six years, growing from 592 in 2003 to 1,278 in 2008, according to a December report by the US Justice Department's Office of the Inspector General.
"It is getting more dangerous," Timothy Fautsko, a security expert with the National Center for State Courts (NCSC) who also works with federal officials, says of the situation inside American courthouses.
The Justice Department report also found inconsistencies in how the US Marshals Service, which is tasked with federal courthouse security, responded to the threats and also in how judges reported threats against them.
---