Quick hearing for bomb suspect, but probably a long road ahead
At a hearing in Detroit, Umar Farouk Abdulmutallab pleaded not guilty to charges that he tried to blow up a plane on Christmas Day. US authorities will undoubtedly want to examine every step of his journey before proceeding with a trial.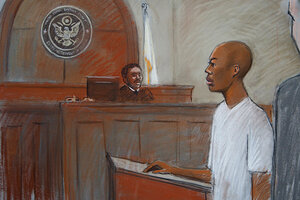 Jerry Lemenu/AP
It was over in less than five minutes. In his first appearance in public since allegedly trying to blow up a packed US airliner on Christmas Day, Umar Farouk Abdulmutallab on Friday pleaded not guilty before a federal judge in Detroit.
The slight Nigerian native was barely taller than his female public defender, Miriam Siefer. Dressed in an oversized white T-shirt, he walked with a slight limp. Asked if he had taken any drugs or alcohol in the past 24 hours, he answered "some pain pills."
He stood at a podium in Detroit's federal courthouse and answered a few questions from Magistrate Judge Mark Randon. His attorneys then waived the reading of the indictment, and the judge entered a plea of not guilty for him.
It is unlikely that a quick trial is in store for Mr. Abdulmutallab. US authorities undoubtedly will want to examine thoroughly every step of his journey across continents – from Nigeria, to Yemen, then through Amsterdam to Detroit – before proceeding.
---