Targeting guns: a cop's new priorities
A new focus: It's not the guy with the kilo of weed in his car, it's the one with the Glock in his waistband.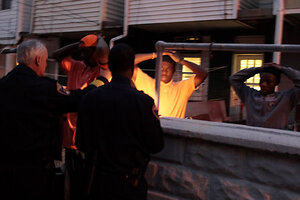 Michael Bonfigli/Special to The Christian Science Monitor
The top man in the Baltimore Police Department is standing in an alley not far from the housing complex people here call "Target City."
It's a nickname born of gun violence and could apply to more than just those low-income apartments. There are dozens of shootings in this city each week – over drugs and respect, corners and feuds, domestic violence and business deals gone bad. There are a growing number of gang shoot-outs, too, including one last summer that sent tourists diving for cover at the popular Inner Harbor waterfront area. And in August, Baltimore made national news when 12 people were wounded at a shootout at a backyard barbecue.
All of which helps explains why, here in this trash-strewn alley illuminated by the headlights of a police cruiser, Frederick H. Bealefeld III is telling the mother of three teenagers that she – not the cops – is the one who needs to deal with the fact that he just caught her boys smoking marijuana.
Backing off can be just as important as cracking down, knows the veteran of Baltimore crime fighting.
Mr. Bealefeld speaks respectfully, like an old friend of the family who just happened upon the kids' misbehavior and is letting their mom know about it. His Baltimore accent echoes hers, and he's relaxed, showing none of the aggressiveness or attitude one might expect in a section of the city where tensions between police and residents are severe. Even the boys' mother, and the family pressing up behind her in the doorway, seem taken aback that this tall white man isn't, in fact, going to hassle them.
And that's all Bealefeld: accustomed to shaking expectations. He grew up in a family full of men who wore the blue uniform, and he rose from street corner patrolman who chased down his share of drug deals and gunslingers to become commissioner two years ago. He never went to college, has lived his whole life in Baltimore, and spent 28 years on the police force. Yet Bealefeld has bucked established department policy dramatically, pushing for a new, tighter focus on guns and gun offenders, while also emphasizing improved relations with the city's black residents.
---