Judge: D.C. gay-marriage vote would violate Human Rights Act
A Washington, D.C., judge ruled Thursday that the District can ban any referendums on gay marriage under the terms of the District's Human Rights Act. The decision, which will be appealed, is a victory for gay-rights groups.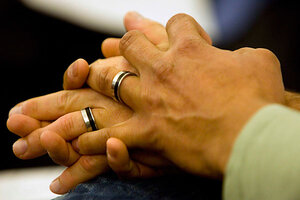 Jacquelyn Martin / AP
Thirty-one states have held referendums on whether or not to ban gay marriage, but a Washington, D.C., judge ruled Thursday that such a vote would violate the District's Human Rights Act.
The ruling upholds a decision by the city's board of elections, which has twice rejected plans by an anti-gay marriage group to hold a referendum on the subject. City council passed an ordinance in December that allowed gay marriage in the District.
Opponents of gay marriage say they will appeal the decision to the D.C. Court of Appeals. The decision fits a pattern of judicial activism, which has interfered with the people's will to ban gay marriage, they say.
For gay-marriage advocates, however, the decision is a significant victory. In all 31 states where gay marriage has been put before voters in a referendum, it has lost. If the judge's decision stands, it removes this hurdle for the District.
What's in a Human rights Act?
The question of whether voters can overturn gay-marriage laws is central to the federal trial underway in San Francisco. Two same-sex couples are challenging Proposition 8, a voter initiative that trumped the state Supreme Court's ruling that same-sex marriages were legal in the state. The trial, regardless of the final ruling, is expected to be appealed to the US Supreme Court.
Had gay-marriage opponents been able to hold a Prop. 8-style referendum in D.C., Washington would likely have followed the national trend and banned same-sex marriage, says Brian Brown, executive director of the National Organization for Marriage, an anti-gay marriage group.
---