For first time, Asian carp DNA found in Lake Michigan
On Tuesday, the US Supreme Court ruled that it will not force Illinois to shut locks that other states say could allow invasive Asian carp into Lake Michigan. Hours later, the US Army Corps of Engineers announced that they had found Asian carp DNA in Lake Michigan.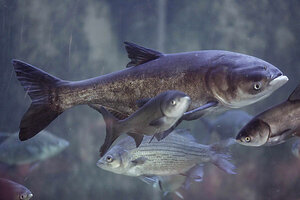 M. Spencer Green / AP
On the same day that US Supreme Court ruled Illinois should not be forced to close canals that have allowed Asian carp to come to the very doorstep of the Great Lakes, the US Army Corps of Engineers reported evidence that the invasive species might already have made its way into Lake Michigan.
Both announcements have fired up environmental groups and a coalition of seven surrounding states, which say an Illinois canal linking Lake Michigan to the Mississippi River needs to be immediately closed because it threatens the $7 billion economy tied to the Great Lakes – primarily commercial and recreational fishing.
Michigan Gov. Jennifer Granholm quickly called for a White House summit on the issue.
On Tuesday, the Corps said the discovery of a DNA sample along Calumet Harbor near Lake Michigan suggests that the Asian carp might have breached Lake Michigan. Asian carp DNA was also found on the Lake Michigan side of an underwater electronic barrier near Lockport, which was considered the last impenetrable barrier to the lake.
No fish found yet
It is too early to tell with certainty that Asian carp have penetrated the lake's waters. No fish have been found there yet. But the discovery "is not good news," said Maj. Gen. John Peabody, commanding general of the US Army Corps of Engineers' Great Lakes and Ohio River Division.
In a written statement, he said the Corps will continue to work to "defeat this threat to the Great Lakes."
---