At Calif. gay marriage trial, marriage is not the only flash point
Lawyers for two same-sex couples, over nine days of testimony, have examined general attitudes about modern marriage, homosexuality, and whether sexual orientation warrants special legal protection. They seek to overturn Proposition 8, which bans gay marriage in California. Defenders of the ban are up next.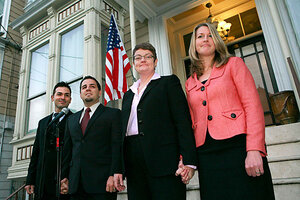 Robert Galbraith/Reuters/File
On Friday, Day 9 of the federal trial challenging California's gay marriage ban, lawyers for two unwed same-sex couples are expected to call their final witness: a psychologist to testify on the nature of sexual orientation.
That expected testimony illustrates how the case, in which the major thrust is that California's Proposition 8 violates the right of same-sex couples to equal protection under the Constitution, is in fact about so much more. Thus far, it has also been an examination of modern marriage, contemporary attitudes about homosexuality, and the idea that sexual orientation warrants special legal protection. Indeed, it is a case designed to prompt to US Supreme Court challenge and resolve the divisive nationwide debate over gay marriage.
On Thursday, one of the most controversial witnesses took the stand.
Hak-Shing William Tam, a Chinese-American leader in San Francisco and executive director of the Traditional Family Coalition, joined the case as a supporter of Proposition 8, but lawyers contesting the ban called him as part of their effort to show California's marriage initiative was driven by animosity toward gays and lesbians.
Mr. Tam said he supported Proposition 8 because it's very "important for the next generation to understand the historical importance of marriage. It's important our children won't grow up to fantasize or think ... 'should I marry Jane or John?' "
---