Supreme Court won't halt Noriega's extradition to France
Noriega, the former Panama dictator who served time in the US for drug trafficking, had argued he should be returned to Panama rather than sent to France for prosecution there. The Supreme Court refused Monday to hear his case even though, one justice said, it could help to clarify the legal rights of Guantanamo terrorism suspects.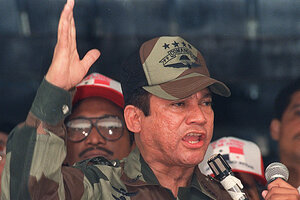 Angel Murillo/AFP/File
Former Panama dictator Manuel Antonio Noriega has lost his appeal to avoid extradition to France on money laundering charges.
On Monday, the US Supreme Court refused to take up his case. The action lets stand a lower court decision approving his removal to face criminal charges in a French court, where he was tried and convicted in absentia and faces up to 10 years in prison.
Two justices – Clarence Thomas and Antonin Scalia – issued a dissent, saying the high court should have agreed to hear Mr. Noriega's appeal.
Although Noriega is the only official prisoner of war currently in US custody, his appeal sought an examination of the constitutionality of legal provisions passed by Congress to undercut appeals on behalf of terrorism suspects at the Guantánamo Bay, Cuba, detention camp.
In answering Noriega's appeal, the US solicitor general's office cited the 2006 Military Commissions Act, which the government argued precludes a person detained as a POW from invoking the Geneva Conventions as a source of rights in a lawsuit challenging the legality of the POW's detention.
---