Blagojevich asks court to release wiretaps at trial - all of them
Impeached Illinois Gov. Rod Blagojevich urges a federal judge to let all 500 hours of his wiretapped conversations be heard at his corruption trial. Why that might play to his advantage.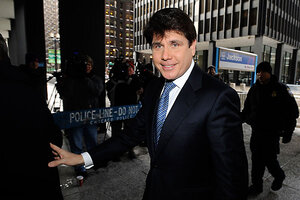 The wiretapped conversations that federal prosecutors intend to use against impeached Illinois Gov. Rod Blagojevich in his upcoming corruption trial are the very ones that Mr. Blagojevich himself is asking the court to ensure get played.
The ousted governor was in federal court here Wednesday to plead not guilty to a new set of indictments related to the bribery scandal. He used the occasion to file a motion asking that "every second, every minute, and every hour that the government secretly taped" him be played during his trial. He described his request as "throwing down the gauntlet."
In his statement, Blagojevich addressed US prosecutors this way: "If you're on the side of truth and justice like you say you are, and if this is a crime spree like you claim it was, then don't hide behind technicalities. Play the tapes."
Blagojevich's updated 24-count indictment adds eight charges – racketeering, attempted extortion, bribery, conspiracy to commit bribery, and conspiracy to commit extortion – to the original counts filed last April. Federal prosecutors drafted a new indictment to eliminate the charge of "honest services" fraud, which the US Supreme Court may reject (in an unrelated case) before Blagojevich's trial gets under way in June. "Honest services" fraud is part of a 1988 federal law meant to help prosecutors convey to jurors an image of impropriety by government officials without needing to prove the tangible benefits to those officials.
---