Amy Bishop case: Why no red flags were waved before shooting spree
Neurobiologist Amy Bishop, charged with killing three faculty colleagues at the University of Alabama-Huntsville, had a squeaky-clean public record despite several brushes with the law. There's more than one reason her record didn't follow her.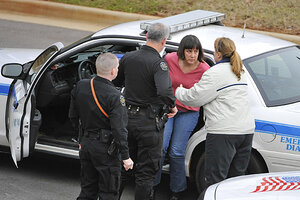 Bob Gathany/Huntsville Times/AP
After Friday's bloodletting at the University of Alabama-Huntsville, police ran a background check on neurobiology professor Amy Bishop, who they suspect of methodically gunning down six colleagues, killing three.
"Nothing came up," said an Alabama police official.
Dr. Bishop's public record showed her as a squeaky-clean, law-abiding citizen. Bishop had, in fact, a long record of interaction with police, including lodging dozens of complaints against neighbors and two cases of potentially murderous behavior. So, how did Bishop – an odd and cantankerous person by some accounts – pursue a career at high levels of academia without ever facing any fallout from a troubling rap sheet?
"There's more than one reason why Amy Bishop slipped through the cracks," says Jack Levin, a Northeastern University criminologist who has written extensively about mass murderers. "Local authorities dropped the ball. There's a lack of coordination among [police] jurisdictions. And there's gender: We don't expect women to open fire with a semi-automatic 9 mm handgun, and statistically they don't."
---