Supreme Court hands police another victory in Miranda cases
In a Maryland case involving child abuse, the US Supreme Court ruled that police could interrogate a suspect after he'd invoked his Miranda right to first consult a lawyer. The justices said at least two weeks must pass since the initial questioning.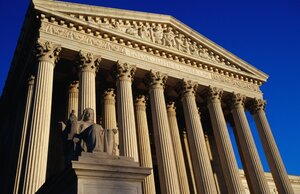 Newscom
The US Supreme Court on Wednesday made it easier for police to make repeated attempts to convince a criminal suspect to undergo questioning – even after that suspect has invoked the right to first consult a lawyer.
In a 7-to-2 decision, the justices said police could contact the suspect again, provided at least two weeks had passed since the initial attempt to interrogate the individual. In addition, the suspect must have also been released from police custody at least 14 days earlier.
The new rule emerged in the case of a Maryland man whose child abuse conviction was overturned by the Maryland Court of Appeals.
The man, Michael Shatzer, made incriminating statements to police about alleged child abuse during a 2006 interrogation. Mr. Shatzer was in prison at the time, serving a sentence for a different crime. Police had approached Shatzer two and a half years earlier, but he refused at that time to talk without first seeing a lawyer.
The issue in the case was whether Shatzer's invocation of his Miranda rights in 2003 was violated by his subsequent interrogation by police in 2006. The Maryland Court of Appeals said it was. The state judges threw out incriminating statements Shatzer made to police and invalidated his conviction.
On Wednesday, all nine Supreme Court justices reversed that ruling. The court reasoned that two and a half years was enough time to allow police another opportunity to question Shatzer.
---