Supreme Court lets stand order to remove Ten Commandments monument
A lower court ruled that a Ten Commandments monument on the lawn of an Oklahoma courthouse was an endorsement of religion, and violated the First Amendment. The Supreme Court let that decision stand.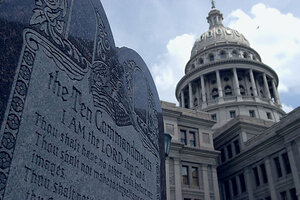 Harry Cabluck/AP/File
The US Supreme Court declined on Monday to take up a dispute over the placement of a Ten Commandments monument on the lawn outside a county courthouse in Oklahoma.
The justices dismissed the case in a one-line order without comment.
The action lets stand a ruling by a federal appeals court and clears the way for the display to be removed from public property. A federal judge had ordered the removal last August.
The case, Haskell County Board of Commissioners v. James Green, stems from a dispute over a Ten Commandments display erected in a public park by a local pastor in 2004. The display is among several monuments on the lawn outside the county courthouse in Stigler, Oklahoma.
The monument displays the Ten Commandments and includes the notation: "Erected by Citizens of Haskell County." The text of the Mayflower Compact is displayed on the other side of the monument.
Local resident James Green and the American Civil Liberties Union of Oklahoma filed suit in federal court, alleging that display of the Ten Commandments on public property is an unconstitutional endorsement of religion by the county commissioners who approved the display. A federal judge held a two-day trial and disagreed, ruling that the county commissioners had a secular purpose of acknowledging the historical significance of the Ten Commandments.
---