Supreme Court seems ready to extend gun rights to cities, states
The Supreme Court heard oral arguments Tuesday in a landmark gun rights case that could apply the Second Amendment's right to bear arms to both cities and states.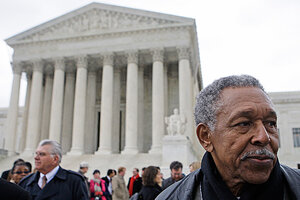 Haraz N. Ghanbari/AP
The US Supreme Court appears to be on verge of extending the constitutional protection of the Second Amendment's right to keep and bear arms to every jurisdiction in the nation.
During an hour-long oral argument at the high court on Tuesday, several justices exhibited a willingness to enforce their landmark 2008 gun-rights decision at the state and local level.
If they do so, the decision may doom not only the Chicago handgun ban at the center of Tuesday's case, but other handgun bans and some of the toughest state and local gun-control laws in the country. (For Monitor coverage of what the case means for gun-control laws, click here.)
The only remaining question in McDonald v. Chicago was which constitutional mechanism the majority justices might use to apply the 2008 holding to state and local governments. (For a preview of the case, click here.)
In pictures: The debate over gun rights
Two years ago, the high court recognized an individual right to possess handguns in the home for self defense. By a 5-to-4 vote, the court struck down a ban on handguns in Washington, D.C. That case was District of Columbia v. Heller.
---