Will return to military tribunals prompt Guantanamo closing?
Republicans may back closing the Guantanamo Bay prison if the Obama administration decides to try alleged 9/11 conspirator Khalid Sheikh Mohammed by military tribunal.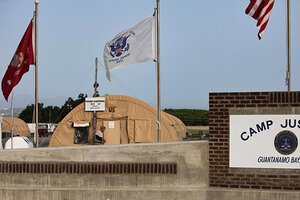 Brennan Linsley/AP/File
Abandoning plans to try alleged 9/11 mastermind Khalid Sheikh Mohammed in federal court could allow the Obama administration to finally close the military-run prison at Guantanamo Bay, Cuba.
Some Republicans who are adamantly opposed to allowing Guantanamo prisoners access to the US civilian justice system might support closing "Gitmo" if the White House reverses course, and agrees to try Mr. Mohammed and four of his alleged conspirators via military commission. (Read about how military tribunals would change under Obama, here.)
Some of the administration's more liberal supporters likely would be angered by such a move, however.
"If the president flip-flops and retreats to the Bush military commissions, he will betray his campaign promise to restore the rule of law, demonstrate that his principles are up for grabs and lose all credibility with Americans who care about justice and the rule of law," said Anthony Romero, executive director of the American Civil Liberties Union, in a statement.
The administration has yet to officially announce the change. Numerous news reports say it is under consideration. (Read analysis about Obama's terror trial switch here.)
Sen. Lindsey Graham (R) of South Carolina, among others, has argued that it is inappropriate to try Mohammed in New York City in a civilian courtroom.
---