Three crucial questions in the 'Jihad Jane' case
As the case proceeds against 'Jihad Jane,' or Colleen LaRose, here are three crucial questions to consider.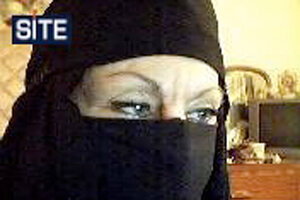 SITE Intelligance Group/AFP/Newscom
Colleen LaRose, now known around the world by the pseudonym "Jihad Jane," has been charged by US authorities with conspiring to commit murder and recruiting others for terrorist activities. She will appear in federal court on March 18 to answer this indictment.
Blond, Michigan-born, and female, Ms. LaRose does not fit easily into the template of a terror suspect. She apparently connected with Islamist extremists over the Internet while she sat alone at the computer in her home on Main Street in Pennsburg, Pa.
Her boyfriend of five years, Kurt Gorman, said he had no idea that LaRose had a hidden radical Muslim identity. She fled their home without telling him last August, taking with her his passport and the computer's hard drive.
She is one of only a handful of women ever charged with terrorist offenses in the United States. Perhaps a trial will clear up some of the mystery of her behavior. Pending more information, here are three crucial questions about her case:
What was the spark that lit her interest in radical Islam? Born in Michigan, raised in Texas, living in Pennsylvania, LaRose may have had no contact with actual Muslims prior to professing a willingness to die for their cause in electronic messages.
---