Eric Holder: US does not expect to capture Osama bin Laden alive
Attorney General Eric Holder said the possibility of capturing Osama bin Laden alive is 'infinitesimal.' He spoke in response to sharp questioning Tuesday by House Republicans about prospective risks of some day putting the Al Qaeda leader on trial in a US civilian court.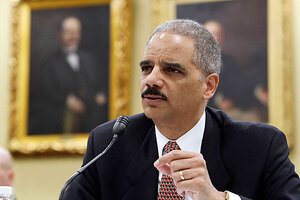 Larry Downing/Reuters
The Obama administration does not expect to capture Osama Bin Laden alive.
Attorney General Eric Holder told a House appropriations subcommittee on Tuesday that the possibility of catching the Al Qaeda leader alive is "infinitesimal."
"Based on the intelligence I've reviewed, the possibility simply does not exist," Mr. Holder said in response to heated questioning by Republican members of Congress.
"He will be killed by us or he will be killed by his own people so that he is not captured alive," Holder said. "We know that."
The exchange came amid a barrage of questioning by Republican lawmakers critical of what they suggested was a lackluster approach to terrorism by an Obama administration that they say views the Al Qaeda challenge more as crime fighting than war fighting.
Amid hostile questioning, the attorney general also pledged that 9/11 mastermind Khalid Sheikh Mohammed would never be released from US custody.
He made the assertion after being asked what the administration would do if a civilian judge ordered Mr. Mohammed released.
"If that were to be the case, he would not be released," Holder said. "I am not qualifying it. He would not be released."
The comment seems to contradict the administration's announced rationale for holding public trials for Mohammed and other terror suspects in civilian courts. Officials had said they wanted to demonstrate that Mohammed could face a fair trial under the American system of justice. But a trial that does not offer the possibility of acquittal is a show trial and the antithesis of justice.
---
Follow Stories Like This
Get the Monitor stories you care about delivered to your inbox.