Healthcare reform law challenged on religious grounds, too
The Thomas More Law Center in Michigan and Liberty University in Virginia, abortion foes, each filed suit challenging the new healthcare reform law. The law treats religions unequally, they say, and forces adherents to be part of a healthcare system that violates their religious beliefs on abortion.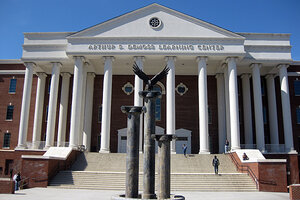 Caroline Groussain/AFP/Newscom/File
President Obama's healthcare reform law is coming under attack by those who claim it violates the separation of church and state.
At least two lawsuits have been filed challenging the new healthcare mandate on religious grounds.
One was filed by a Michigan-based group, the Thomas More Law Center. The other was filed on behalf of Liberty University in Lynchburg, Va., which was founded by the late Jerry Falwell.
Healthcare reform 101: What the bill means to you
Both groups oppose abortion and argue that forcing individuals to participate in a healthcare system that supports abortions violates their First Amendment right to freely follow their sincerely held religious beliefs.
In addition, both groups argue that the law empowers the national government to draw unconstitutional distinctions among and between religious groups in the US and to reward certain favored groups with exemption from the mandate. Congress wrote an exemption for religious sects opposed to the provision of public or private insurance.
---