Defending due process for Guantánamo detainees
Defense attorneys for Guantánamo detainees stand up for due process despite hate mail, threats, and Dick Cheney's daughter.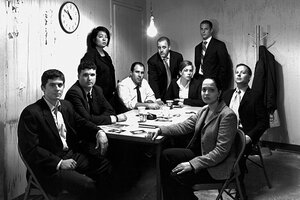 Jeff Riedel/Art Department
At first, Joshua Colangelo-Bryan didn't know whether his client was a terrorist. Jumah al-Dossari had been rumored to work with Al Qaeda and to have fought for Islamic causes around the world. His name was familiar to anyone following the news after 9/11.
But Mr. Colangelo-Bryan, a Manhattan corporate litigator doing pro bono work for Mr. Dossari, needed more: "Certainly I'm not going to conclude that someone is a terrorist on the basis of Google," he said. He'd faced accused war criminals before, working with the United Nations on the prosecution of war crimes in Kosovo. But Guantánamo, the US naval station in Cuba where detainees in the war on terror are held, was new territory.
"This kind of offshore penal colony is not something that we do very often," he says. He was drawn initially to the legal challenge – "the novelty and cutting-edge aspect of it. There was also what seemed like the fundamentally unfair notion that the government was holding people just because it said they should be held, without any form of due process … so there were important principles at stake."
---