Supreme Court: Lawyers must advise immigrants of deportation threat
The US Supreme Court said that criminal defense lawyers are bound by the Constitution to let immigrant defendants who are not US citizens know when a guilty plea could lead to deportation.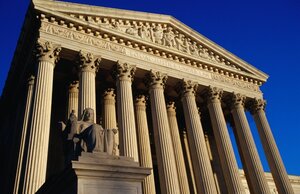 Newscom
Criminal defense lawyers have a constitutional obligation to inform immigrant criminal defendants who are not US citizens of the possibility that a guilty plea could result in deportation.
In a 7-to-2 decision announced on Wednesday, the US Supreme Court expanded the Sixth Amendment right to effective assistance of competent legal counsel to include a defendant's right to receive accurate advice about the immigration consequences of a possible guilty plea.
"We now hold that counsel must inform her client whether his plea carries a risk of deportation," wrote Justice John Paul Stevens in the majority opinion.
In a dissent, Justices Antonin Scalia and Clarence Thomas said a lawyer's constitutional obligation relates to representing a client in a criminal matter and should not extend to collateral issues such as possible deportation and immigration law.
"There is no basis in text or in principle to extend the constitutionally required advice regarding guilty pleas beyond those matters germane to the criminal prosecution at hand," Justice Scalia wrote.
Case began with drug charges
The issue arose in the case of Jose Padilla, who had been charged with transporting a large amount of marijuana in his tractor-trailer in Kentucky. Padilla, a native of Honduras, has been a lawful permanent resident of the US for more than 40 years and served in the US armed forces during the Vietnam War.
---