Conrad Murray statements under scrutiny in Michael Jackson death
Conrad Murray, the doctor accused of involuntary manslaughter in the Michael Jackson death, returned to court Monday. A judge is deciding whether he can practice medicine as he awaits trial.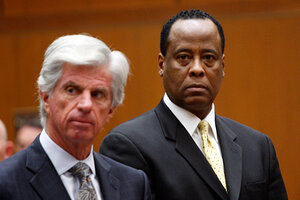 Newscom
The legal case against Conrad Murray, the doctor who was with singer Michael Jackson when he died June 25 in Los Angeles, moves back into the spotlight this week with a preliminary hearing to formally decide whether Dr. Murray must face trial.
Legal experts across the United States say they will be watching the case not only to see if Murray can get a fair trial amid the media frenzy, but also to see what impact this will have on doctors for wealthy clients who will pay huge sums of money to get the drugs they want.
"Doctors and pharmacists across California are going to be watching this very, very carefully for signals about how to deal with rich celebrities who are willing to pay any price to get prescription drugs," says Elizabeth Kelly, a criminal attorney in Cleveland.
---