Father of USS Cole victim can display anti-Islam decals
Jesse Nieto's son was killed in the terrorist attack. Mr. Nieto, a civilian employee at a Marine base, was ordered to remove anti-Islamic decals from his car, but a federal judge ruled in his favor.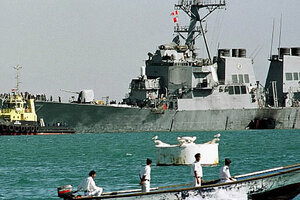 Hasan Jamali/AP/File
A civilian employee at the Camp Lejeune Marine Base in North Carolina has won his battle to display anti-Islamic decals on his van while driving on the base.
Jesse Nieto, whose son was among 16 sailors killed in the 2000 terror attack against the USS Cole, had used the windows of his car as a place of tribute to his son. He displayed a gold star (a symbol of death in combat), a combat action ribbon, and the message: "Remember the Cole, 12 Oct. 2000."
But Mr. Nieto also used his vehicle to express his opinion of those who killed his son. Decals proclaimed: "Islam = Terrorism," "We Died, They Rejoiced," and a picture of the US flag with the words: "Disgrace My Countries [sic] Flag And I Will [defecate] On Your Quran."
He also displayed a decal picture of Calvin (from the Calvin and Hobbes cartoon) urinating on a cartoon illustration of the Prophet Mohammed. The Mohammed illustration was a re-creation of one of the cartoons that provoked Muslim protests against a Danish newspaper and sparked an assassination plot against the cartoonist.
After seven years with these messages on his car, someone on the base complained. Nieto was ordered to remove them. He removed the most offensive decals, but was later cited again for violating a base traffic regulation that prohibits the display of "extremist, indecent, sexist, or racist messages" on motor vehicles.
Nieto, a Marine combat veteran, decided to fight back. In a lawsuit filed in federal court in North Carolina he claimed a First Amendment free speech right to express his opinion of Islam and Islamic terrorists.
---