Teen juries put a new spin on juvenile justice
In L.A.'s peer courts, teen juries grill young offenders and then devise deterrents. The new juvenile justice approach is quickly building a track record of preventing repeat crimes.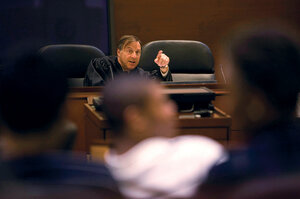 Stephen Osman/Southwestern Law School
The 13-year-old defendant, standing before a jury of his peers, hears the verdict: guilty of battery. The teenage jury foreman then reads the punishment:
"We sentence the defendant to a daily curfew, anger counseling, and 50 hours of community service, Your Honor," he says. "Also, he is not to have any associations with gangs, will write a letter of apology to his parents and the victim, will submit to regular drug testing, and will be put on academic probation. We also will put him into regular auto shop and art classes."
Teen peer court is in session at Dorsey High School in South Los Angeles – and this is no mock trial. The defendant, Garry V., is accused of a real crime. Student jurors mete out a real sentence. Presiding Judge David Wesley is a jurist from Los Angeles Superior Court. The school's Thurgood Marshall Courtroom is complete with a judge's bench, a witness stand, a jury box, and, yes, oak paneling.
The juvenile defendants who come to this place, one of 17 peer teen courts in Los Angeles County, are facing their first criminal charges – misdemeanors such as graffiti tagging, theft, prostitution, drug possession, and battery. The intent of the juvenile justice system is to drive down the re-offense rate and keep kids out of jail; the means is a forum whereby fellow teens ask the questions, decide the case, and assess the penalty.
---