Do university rules discriminate against student faith groups?
In a case to be argued before the US Supreme Court Monday, the Christian Legal Society seeks official recognition by the University of California Hasting College of the Law in San Francisco.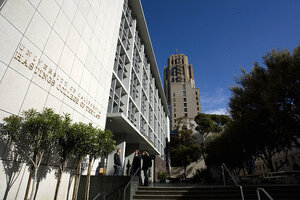 Hastings College of the Law
A group of Christian students is asking the US Supreme Court to strike down as unconstitutional a school anti-discrimination policy that forces them to accept as voting members and potential leaders classmates who do not share their core religious beliefs.
A lawyer for the Christian Legal Society is set to argue on Monday that the school's policy violates the Christian students' First Amendment right to freely associate with like-minded individuals who share a common faith.
At issue is a non-discrimination policy that applies to all student groups at the University of California Hastings College of the Law in San Francisco. The policy bars student groups from discrimination based on race, color, religion, national origin, ancestry, disability, age, sex, or sexual orientation.
Hastings officials refused to recognize the Christian Legal Society (CLS) as a registered student organization because they said the group's faith-based by-laws reflected intent to discriminate against gay and lesbian students and others who do not embrace the group's religious beliefs. Under the school policy, student groups must agree to accept any student as a voting member.
Does the Christian group discriminate against gay students?
The CLS said that gay and lesbian students and others of different beliefs were welcome to attend CLS meetings and events, but that unless they signed a pledge acknowledging that they shared the precise Christian beliefs of the group they would be excluded from voting, holding leadership positions, and leading Bible study discussions.
---