Supreme Court rejects animal cruelty law, upholds free speech
The Supreme Court on Tuesday struck down a 1999 federal law that criminalized depictions of animal cruelty such as dogfighting videos.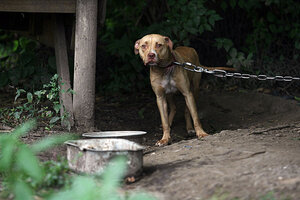 Emily Rasinski/St. Louis Post Dispatch/AP/File
The US Supreme Court on Tuesday struck down a federal law that criminalized photographs and other depictions of animal cruelty, saying the law violated free speech rights protected by the First Amendment.
In an 8 to 1 ruling, the high court said the law was substantially overbroad and thus could not withstand constitutional scrutiny.
The majority opinion, written by Chief Justice John Roberts, criticized the Obama administration for proposing to the high court a balancing test that would pit the "value" of any speech against its "societal costs."
"As a free-floating test for First Amendment coverage, that sentence is startling and dangerous," Chief Justice Roberts wrote.
"The First Amendment's guarantee of free speech does not extend only to categories of speech that survive an ad hoc balancing of relative social cost and benefits," he said. "The First Amendment itself reflects a judgment by the American people that the benefits of its restrictions on the government outweigh the costs."
In a lone dissent, Justice Samuel Alito said instead of overturning the entire law the justices should have sent the case back to the lower courts to decide if the statute had been applied in an unconstitutional manner.
---