Obama: 'civil, thoughtful' hearings on new Supreme Court justice
President Obama met Wednesday with key senators of both parties to discuss the nomination and confirmation process of a Supreme Court justice to replace retiring Justice John Paul Stevens.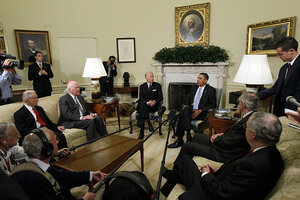 Alex Brandon/AP
The formal nomination process for the next Supreme Court justice kicked off Wednesday, as President Obama met with Senate leaders from both parties to urge a smooth and timely confirmation process.
Last year, when the Senate confirmed Sonia Sotomayor to the high court, the four senators sitting with him in the Oval Office on Wednesday "worked very cooperatively on what I considered to be a smooth, civil, thoughtful nomination process and confirmation process," Obama said before the meeting.
"My hope is, is that we can do the exact same thing this time," Obama added. He said the nominee's name will go to Capitol Hill by the end of May, if not sooner.
IN PICTURES: Frequently mentioned Supreme Court possibilities
Before the press pool was ushered out, a reporter asked Obama if he would be willing to nominate someone who did not support a woman's right to choose abortion. The president said he did not have any "litmus tests," but added, "I will say that I want somebody who is going to be interpreting our Constitution in a way that takes into account individual rights, and that includes women's rights."
---
Follow Stories Like This
Get the Monitor stories you care about delivered to your inbox.