Eleven alleged Somali pirates indicted in US federal court
The alleged Somali pirates face charges of piracy and plunder, charges not typically heard – at least since the 18th century. What they thought were commercial vessels were actually US Navy warships. That was a big mistake.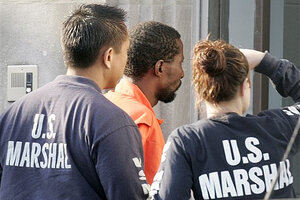 Steve Helber/AP
Eleven suspected Somali pirates have been indicted in Norfolk, Virginia, on charges of attempting in the dark of night on the high seas off Somalia to attack and plunder what they believed were defenseless cargo ships.
They were mistaken. Instead of cargo ships, the vessels they attacked turned out to be two US Navy warships.
At this early stage in the two cases, one huge mystery looms: How these alleged pirates lived to tell the tale.
According to the indictments, one attack took place March 31 against the USS Nicholas, a frigate. The second attack took place on April 10 against the USS Ashland, a dock landing ship.
In both cases, the pirates were armed with assault rifles and rocket-propelled grenades. In contrast, US naval warships are equipped with a full array of modern weapon systems.
The indictments use language that doesn't appear often in federal charging documents – at least not since the 1700s or thereabouts.
The charges: Piracy and attacking to plunder a vessel. One of the indictments says that five of the Somalis "by surprise and open force, maliciously attacked and set upon a vessel belonging to another, specifically, the USS Nicholas belonging to the United States of America, with intent unlawfully to plunder the same, and to despoil any owner thereof of any money, goods, and merchandise laden on board."
The indictment explains: "The primary purpose of the conspiracy was to make money by means of piracy on the high seas."
---