Vets win Supreme Court victory in 'Mojave cross' case
The cross on a desert hilltop in the Mojave National Preserve in California has stood since 1934. Opponents say having the Mojave cross on public land violates the constitutional prohibition on government endorsement of religion.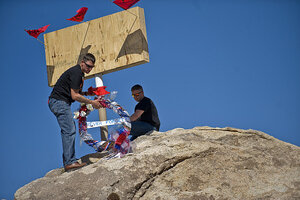 Newscom
A veterans group has moved a few steps closer to winning its fight to keep an eight-foot-tall cross on a Mojave Desert hilltop as a memorial to fallen World War I service members.
The US Supreme Court on Wednesday directed a federal judge in the long-running dispute to reexamine an earlier order that would force removal of the cross.
The 5-to-4 decision left the high court sharply divided over the proper framework to resolve the dispute. But it suggests that five justices believe the cross should remain at its current location, where it has stood since 1934.
The case, Salazar v. Buono, began when a former National Park Service employee, Frank Buono, filed a lawsuit challenging the location of the cross on public land within the Mojave National Preserve. The suit said the presence of a religious symbol on federal land violated the First Amendment's prohibition on government endorsement of religion.
A federal judge and federal appeals court panel agreed and ordered the cross removed.
Congress ordered public-private land swap
Congress responded by transferring the public land around the cross to private owners while accepting similar private land for the preserve in return. The action sought to make the cross's location on Sunrise Rock a sanctuary of private property within the public preserve, thus eliminating or reducing any perception of government endorsement of religion.
---