Legal challenges to Arizona immigration law multiply
Three legal challenges to the Arizona immigration law have already been filed in federal court in Arizona, asking judges to block implementation of the statute and declare it unconstitutional.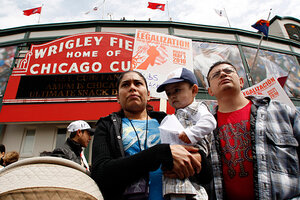 Nam Y. Huh/AP
Advocates from immigrant rights groups set the stage on Thursday for a major legal showdown in the federal courts over the constitutionality of the tough new Arizona immigration law.
In a news conference on the grounds of the Arizona State Capitol in Phoenix, leaders from the groups pledged to file a "vigorous and sophisticated" challenge to the law.
"If this law were implemented, citizens would effectively have to carry 'their papers' at all times to avoid arrest," said Alessandra Soler Meetze, executive director of the American Civil Liberties Union (ACLU) of Arizona. "It is a low point in modern America when a state law requires police to demand documents from people on the street."
---
Follow Stories Like This
Get the Monitor stories you care about delivered to your inbox.