Times Square bomb plot: 'CSI' methods could crack the case
Video cameras, fingerprints, and chemical clues could all come into play as authorities try to identify who drove an explosives-laden vehicle into Times Square. The bomb plot left behind plenty of evidence.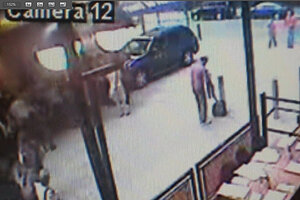 NYPD/AP
The failed attempt to set off a bomb in Times Square on Saturday night is a case made for "CSI."
To begin, scores of video cameras keep watch over every inch of the tourist destination. The sport utility vehicle in question, loaded with flammable material, is intact, possibly containing fingerprints or DNA-revealing drops of sweat. And with the help of possible video evidence or credit-card information, many ingredients in the failed bomb can be traced back to where they were bought or obtained.
Given the amount of evidence, many law-enforcement officials believe it is only a matter of time until authorities announce an arrest in the Times Square bomb plot.
"There should be enough physical evidence indicating the identification of the individual who drove the vehicle, and the chances he will be brought to justice are very good," says Danny Defenbaugh, who worked for the Federal Bureau of Investigation for 33 years and now has his own security consulting firm in Dallas. "One of the biggest issues in the investigative focus and direction is forensics."
The New York City Police Department said it will send material from the vehicle to the FBI laboratory in Quantico, Va. "They've got the top laboratory in the world to do these sorts of examinations, and we'll keep some samples here," Police Commissioner Raymond Kelly told WCBS radio in an interview Monday morning.
---