Legal challenge of federal gay marriage ban begins
Plaintiffs argue that the federal Defense of Marriage Act, which bans gay marriage, is unconstitutional. The federal trial opened Thursday in Boston.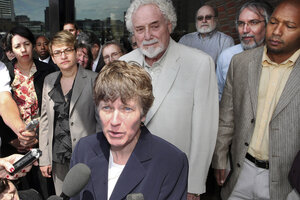 Wendy Maeda/The Boston Globe/AP
The latest legal challenge to the US Defense of Marriage Act began Thursday in a federal courtroom in Massachusetts, in a case that will determine whether gay couples legally married under state law are entitled to the same federal benefits that heterosexual couples receive.
Eight same-sex couples and three widowers, who filed their suit last year, are challenging the 1996 federal law known as DOMA, which bans gay marriage. They argue DOMA is unconstitutional because it denies them equal protection under the law.
The case puts the Obama administration in an unusual situation. The president has said he would like to see DOMA repealed, but the Justice Department is tasked with defending the law.
"The government does not presently support DOMA and would like to see it repealed, But we do argue for its constitutionality," said Justice Department attorney W. Scott Simpson at the onset of his argument. He filed a motion to dismiss the challenge to the federal law, arguing for the US government's right and responsibility to apply federal law as it sees fit, regardless of some states' decision to "experiment" with broadening the traditional definition of marriage.
---