Supreme Court nominee Elena Kagan: Will her own words bite her?
Republicans are already throwing the words of Elena Kagan back at her. She once called Supreme Court nominee hearings 'vapid.' GOP senators are challenging her to open up.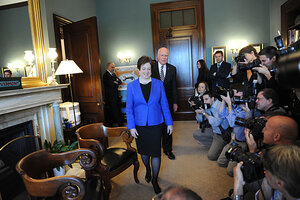 Tim Sloan/AFP/Newscom
Republican senators have already begun to use Supreme Court nominee Elena Kagan's words against her, noting that she once said Senate confirmation hearings had become a "vapid and hollow charade."
Sen. Jeff Sessions (R) of Alabama further said on ABC's "This Week" Sunday that the hearings would be "a big deal" because Ms. Kagan has no history as a judge to parse and scrutinize.
The remarks, however, are likely to mean little in the confirmation hearings – not yet scheduled – unless Kagan herself takes the Republican bait. In the end, neither Kagan's past remarks nor her lack of a judicial record is likely to have a determining factor on her candidacy.
There is nothing to suggest that Kagan will have to be any more forthcoming in her opinions than other nominees have been.
Perhaps the opposite could even be true. As a nominee who so far lacks any flash points regarding her candidacy – no Sotomayor-esque "wise Latina" remark, for example – the less she strays from script the less likely she is to stir up trouble.
---