Questions Elena Kagan has already answered
Supreme Court nominee Elena Kagan lacks a paper trail. But her Senate confirmation hearing last year for solicitor general offers a preview of what's to come.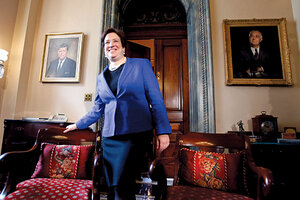 Jason Reed/REUTERS
In her now-famous 1995 essay in the University of Chicago Law Review, Elena Kagan presented a vivid critique of all that she felt was wrong with the US Supreme Court confirmation process.
Instead of a substantive discussion of the meaning of the Constitution, role of the high court, and views of the nominee, the hearings had degenerated into a "vapid and hollow charade," she wrote.
"The critical inquiry as to any individual … concerns the votes she would cast, the perspective she would add (or augment), and the direction in which she would move the institution," Ms. Kagan said.
At the time she wrote those words she was a 35-year-old assistant law professor. Today, she is President Obama's nominee to replace retiring Justice John Paul Stevens as one of nine justices on America's highest court.
Ironically, or perhaps appropriately, she is now poised to deploy the same stealth strategy she found so frustrating 15 years ago in the carefully orchestrated confirmation hearings of Ruth Bader Ginsburg and Stephen Breyer.
"For them (as for most)," she wrote in 1995, "the safest and surest route to the prize lay in alternating platitudinous statement and judicious silence."
---