Supreme Court upholds federal sex offender law
The US Supreme Court on Monday ruled that Congress did not overstep its authority by passing a law that allows 'sexually dangerous' offenders to be detained past their prison terms.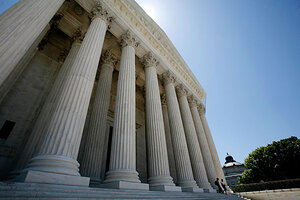 Molly Riley/Reuters
Congress did not exceed its constitutional authority when it passed a 2006 law permitting the civil detention of certain violent sexual offenders after they have served their full prison terms, the Supreme Court ruled Monday.
In a 7 to 2 ruling, the high court upheld Section 4248 of the Adam Walsh Child Protection and Safety Act. The law establishes a civil commitment procedure to keep behind bars any federal inmate deemed by the government to be sexually dangerous.
Government lawyers argued that the law is necessary to prevent federal prisoners who had engaged in sexually violent activity or child molestation from harming new victims by being released from prison.
Under the law, federal prosecutors are authorized to seek the civil commitment of such prisoners by proving to a federal judge that the individual suffers from a mental illness or abnormality and would have "serious difficulty in refraining from sexually violent conduct or child molestation if released."
The law requires federal officials to notify home-state authorities of a prisoner's possible release from federal detention and to turn the prisoner over to state officials if they agree to hold him. But in the absence of any transfer, federal officials are authorized to continuing holding the individual under the federal civil commitment statute.
Of 15,000 sex offenders in federal custody, 105 have so far been certified as "sexually dangerous." Five of them filed a lawsuit charging that the federal statute exceeded Congress's limited powers under the Constitution and intruded into general police powers assigned by the Founding Fathers to state governments.
A federal judge and federal appeals court panel agreed, ruling that Congress had intruded into an area reserved to state governments. They struck the law down.
---