Detainees held by US in Afghanistan can't contest custody, court finds
Friday's ruling is a victory for the US government, which seeks to hold enemy combatants indefinitely at Afghanistan's Bagram Air Base. Detainees' lawyers had argued for judicial oversight.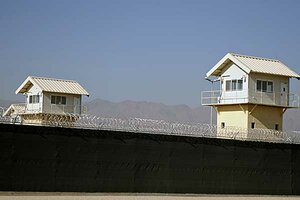 Massoud Hossaini / AFP / Newscom / File
Enemy combatants being held in US custody at the Bagram Air Base in Afghanistan have no constitutional right to challenge the legality of their open-ended military detention, a federal appeals court panel in Washington announced on Friday.
In ruling for the US government, the unanimous three-judge panel said habeas corpus petitions filed on behalf of the men must be dismissed because federal judges in the US lack jurisdiction to hear their cases.
The court said that because the detention camp at Bagram is located in an active theater of war overseas it would be impractical to allow detainees to file such legal challenges.
The ruling is vindication for a policy first enacted by the Bush administration and later embraced by the Obama administration. The policy seeks to hold suspected enemy combatants in overseas detention camps where they can be held in indefinite detention without charge and subjected to interrogations free from any burdens of judicial oversight.
Can't do it at Guantánamo
---