Police chiefs pan Arizona immigration law: Federal lawsuit coming?
US Attorney General Eric Holder met Wednesday with a group of police chiefs, who bolstered Mr. Holder's own criticisms of the Arizona immigration law.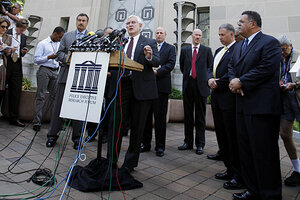 Jose Luis Magana/AP
Is US Attorney General Eric Holder going to sue Arizona over its new immigration law? It sure seems as if the Obama administration is preparing the way for such an action.
On Wednesday, a group of police chiefs from around the nation paid a very public visit to Attorney General Holder and said that forcing local law enforcement to check whether a person is in the United States legally could raise a wall of mistrust between police and immigrant groups. The new Arizona immigration law would require police to carry out such checks.
If that happens, their jobs will become more difficult, said the chiefs.
"Laws like this will actually increase crime, not decrease crime," said Los Angeles Police Chief Charlie Beck.
That is an argument against the Arizona law that Holder himself has already made.
At a House Judiciary Committee hearing earlier this month, Holder said he was considering whether to challenge the Arizona statute in court. He made two specific objections to the law: that it might be a usurpation of federal prerogatives, and that it could lead to racial profiling.
---