Court to Guantánamo Uighurs: Accept resettlement or stay in prison
The five remaining Uighur detainees at the Guantanamo Bay prison camp have turned down resettlement offers from other countries, and have been appealing for release into the US.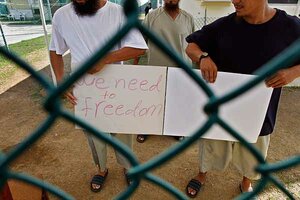 Brennan Linsley/AP/File
A federal appeals court in Washington delivered a terse message on Friday to five Chinese ethnic Uighurs long held at the terror prison camp at Guantanamo Bay: Accept the US offer to resettle in a third country or stay at Guantánamo.
In a five-page ruling, the appeals court panel said that each of the five Uighur detainees had received and rejected three offers of resettlement from countries the government had deemed appropriate. Instead, the detainees pursued litigation seeking their transfer to the United States.
A federal judge had earlier ruled that the Uighurs could not be lawfully held at Guantánamo as enemy combatants. When government efforts to find suitable countries for resettlement bogged down, the judge ordered the government to bring the Uighurs to the United States, pending their resettlement.
The government responded by appealing that decision and by continuing efforts to find third countries willing to take in the Uighurs. Twelve of the original 17 Uighurs have been resettled. Lawyers for the remaining five were hoping the courts would intervene on behalf of their clients who have spent nearly a decade at Guantánamo.
Last fall, the Supreme Court agreed to take up the Uighurs' case to examine whether a federal judge has the power to order the government to bring Guantánamo detainees to the US as a temporary remedy for their illegal detention at the terror prison camp.
---