Registry law doesn't apply to all sex offenders, Supreme Court rules
A sex offender who moved from Alabama to Indiana in 2004 does not have to register with authorities because his move predates the registry law Congress enacted in 2006, the Supreme Court ruled on Tuesday.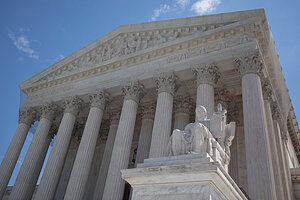 Evan Vucci/AP/File
A national sex offender registry law does not apply to interstate travel by a sex offender that took place before Congress passed the registry statute in 2006, the US Supreme Court ruled on Tuesday.
In a 6-to-3 decision, the high court rejected the Obama administration's expansive reading of the Sex Offender Registration and Notification Act (SORNA). Instead, the majority justices embraced a narrower view of the law, while overturning a convicted sex offender's 30-month prison sentence for traveling to another state and failing to register.
The decision triggered a heated dissent by three justices who warned that the ruling will impair the ability of law enforcement officials to locate and register some 100,000 convicted sex offenders who have eluded authorities.
"Under the court's interpretation, the many sex offenders who had managed to avoid pre-existing registration regimes, mainly by moving from one state to another before SORNA's enactment, are placed beyond the reach of the federal criminal laws," Justice Samuel Alito wrote.
Lawyers for convicted sex offender Thomas Carr had claimed the government's retroactive enforcement of SORNA violated the Constitution's ban on ex post facto laws. But the high court did not reach that constitutional question.
No retroactive enforcement, court rules
Instead, the majority justices found that the statute, as written by Congress, did not authorize retroactive enforcement.
---