Oil spill jail time for BP officials? It could happen.
BP officials could be prosecuted under the Clean Water Act, the Oil Pollution Act, and the Endangered Species Act. So could federal officials if they aided and abetted any illegal acts.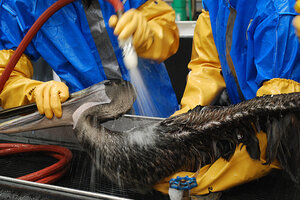 Newscom
The US Department of Justice has launched civil and criminal investigations into the events surrounding the BP oil spill. Does that mean people who helped cause the spill will be going to jail?
Yes, they might be. Violations of some of the applicable environmental laws, such as the Clean Water Act, can result in severe repercussions.
"Clearly, that's on the table," says William Snape, a professor at the American University school of law. "I'd say the odds are greater than 50-50 that someone will get jail time or a probationary sentence."
In one sense, Tuesday's announcement of the Justice Department probe into the Deepwater Horizon disaster was a chronicle of a prosecution foretold. Given that 11 people died in the explosion and fire that destroyed the Deepwater rig, and that the oil spill may be the worst environmental disaster in American history, federal law enforcement officials are virtually duty-bound to launch an investigation into what transpired in the Gulf of Mexico on that fateful April evening.
---