If Chicago's gun control law is overturned, what next?
The Supreme Court will decide soon if Chicago's controversial handgun ban is unconstitutional. Both sides say such a decision would spur a slew of challenges to gun control laws elsewhere.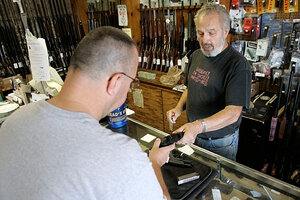 Frank Polich/Reuters/File
Every spring, Chicago Mayor Richard M. Daley stands before a table full of confiscated firearms and urges federal and state lawmakers to pass new gun-control measures that he says will keep streets safer. This year, there's a twist: Mayor Daley is at risk of losing a gun-control law he already has.
By the end of June, the US Supreme Court is slated to decide whether the city's 28-year ban on handguns – the last of its kind in the nation – is unconstitutional. If the decision goes against Chicago (and that's where the smart money is), the city will be forced back to the drawing board to find a new balance between gun rights and public safety.
More broadly, say legal experts, such a ruling will spur a slew of challenges to other gun regulations elsewhere – from hurdles to getting gun permits to bans on loaded weapons in public to rules forcing gun owners to keep weapons locked at home.
IN PICTURES: States with the strictest gun laws
The Chicago case is pivotal to Second Amendment defenders. If it goes their way, it will launch "a wide-open, exciting new field of constitutional litigation," says Alan Gura, a lawyer representing the Illinois challengers to Chicago's law. "Once this case is decided and hopefully ... we will prevail ... [Chicago] should look over its laws in good faith and try to see if there are any other problematic [gun] laws that need to be revisited. If the city will not revisit them ... I'm sure the courts will."
---