Supreme Court to hear California prison overcrowding case
A federal panel ordered the release of 38,000 from California's prisons to alleviate strain on inmate health care. Gov. Schwarzenegger wants the Supreme Court to overturn the order.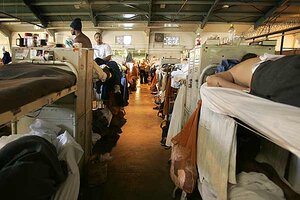 Tony Avelar/The Christian Science Monitor/File
The US Supreme Court agreed on Monday to examine whether a three-judge panel acted properly when it ordered the release of more than 38,000 California inmates to remedy constitutional deficiencies in prison-supplied health care.
At issue in the case is whether the three-judge panel exceeded its mandate by addressing prison overcrowding, rather than limiting its oversight to reforming medical and mental health care services to inmates.
Lawyers for a group of California inmates have been fighting for 20 years for improved medical and mental health care. Courts have ruled that the level of care in overcrowded California prisons violates the Constitution. But efforts at reform have stalled or failed as California prison populations have ballooned to roughly twice the system's design capacity.
The Prison Litigation Reform Act authorizes a panel of federal judges to issue prisoner release orders. But such a panel may only do so when prison overcrowding is the primary cause of a violation of a federal right, and when no other relief will remedy that violation.
In January, the three-judge panel acknowledged that prison overcrowding was not the only cause of the constitutional violations. But the judges said it was the "primary cause" of the state's failure to provide constitutionally adequate mental and physical health care.
The judges concluded that it would be impossible to reform the prison health care system until California's overcrowding crisis was addressed. They ordered California within two years to reduce its prison population to an occupancy rate of 137.5 percent of its total design capacity.
The order would require the early release of an estimated 38,000 to 46,000 inmates.
California Governor Arnold Schwarzenegger and a group of Republican legislators are asking the high court to overturn the prisoner release order, calling it "the most sweeping intrusion into a state's management of its correctional facilities in history."
---