Supreme Court rules against homeowners in Florida beach dispute
The Supreme Court ruled against a group of waterfront property owners who said the state of Florida owed them money because it pumped sand onto beaches eroded by storms, lowering property values.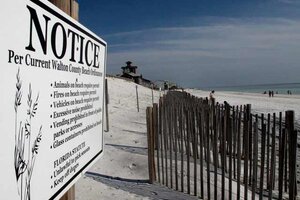 Melissa Nelson/AP/File
A group of beachfront land owners on the Florida panhandle have lost their bid to receive government compensation in the wake of a state beach erosion control program that converted their land from waterfront property into waterview property.
In an 8 to 0 decision released Thursday, the US Supreme Court rejected the land owners' claim that the Florida Supreme Court had engaged in what is called a "judicial taking" of private property when it upheld a state-authorized "beach renourishment" plan.
The property owners insisted that the State of Florida was obligated to pay them fair compensation for the lost value of their land.
Justice Antonin Scalia's majority opinion is sympathetic to the property owners, but he ultimately concludes that under existing Florida law the property owners must lose.
"The takings clause [of the Fifth Amendment] only protects property rights as they are established under state law, not as they might have been established or ought to have been established," he wrote.
In addition to ruling against the property owners, Scalia and three other justices – Chief Justice John Roberts, Justice Clarence Thomas, and Justice Samuel Alito – formed a plurality recognizing for the first time the potential that a state court could rule in a way that would require payment of fair compensation from a state government.
---